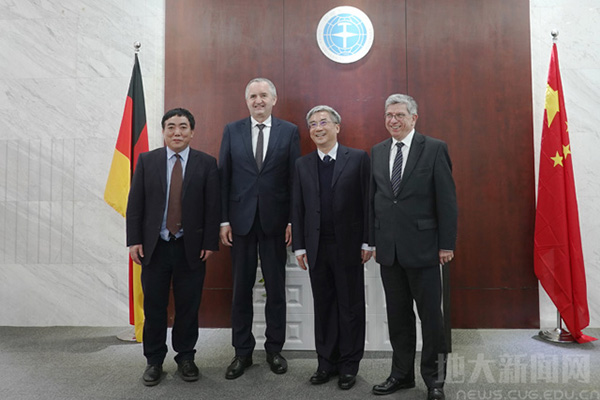 China University of Geosciences Network News (Correspondents: Gong Sining and Ni Qian) On March 29, President WANG Yanxin and Vice President LAI Xulong met with a delegation of German Saxony State Government and Business representatives. The delegation consists of Thomas Schmidt, Saxony State Minister of Environment and Agriculture, Klaus-dieter Barbknecht, president of Freiberg University of Technology, as well as Ronny Wahner and Lutz Richter, the senators of Saxony State Government.
LAI Xulong made welcoming remarks on behalf of CUG. Minister Thomas Schmidt introduced the environmental protection policy, agriculture policy and mining industry system of Saxony State. He mentioned that mining was a traditional industry of Saxony State, and it could be transformed into tourism. He suggested that the four sides - Hubei Province, Saxony State, CUG and Freiberg University of Technology - should work together in mining governance and environmental protection.
In the meeting, Prof. XIANG Wei from School of Engineering introduced programs in Zigui and Badong field training centers (In the meeting, Prof. XIANG Wei from School of Engineering introduced the base in Zigui where enterprises, CUG and research institutes worked together and the field training base in Badong. He elaborates on the educational materials, international exchanges and supporting conditions of the two bases.)
President WANG welcomed the delegation to CUG and reviewed the education of Hubei Province, and the cooperation between German universities and CUG. He said CUG would further the collaboration with Freiberg University of Technology. More emphasis would be put on scientific research such as mining environmental remediation, geological disaster prevention, soil pollution and water pollution treatment, since Hubei Province and Saxony State shared many features from geographical conditions and economic conditions. He also expressed CUG's vision of becoming a platform of industry cooperation between Hubei Province and Saxony State, and a bridge for the friendship between two countries.
During the visit, the delegation looked around the State Key Laboratory of Biogeology and Environmental Geology and was informed of the conditions of the inorganic analysis platform, organic analysis platform, environmental microbiological platform, morphological analysis platform and isotope analysis platform.