(Edited and translated from the Chinese version)
Editor's note: From March 25 to 27, The 3rd "CUG Forum for International Young Scholars" was held at CUG. More than 100 young scholars from over 90 world-renowned universities and research institutes in 21 countries and regions met at CUG for academic exchanges centering on the frontiers of international science and research fields. During the forum, the reporter interviewed 7 young scholars about their impression of Wuhan and CUG, and their suggestions to CUG students on study and research. Let us share their experience.
KONG Lingyun is studying in North Dakota State University, USA, majoring in Petroleum Engineering. His main research field is Petrophysics.
My hometown is Liaocheng, Shandong Province. This is the first time I have come to Wuhan. I think that Wuhan is great, because the air is moist, not as dry as in North China. I also have a good impression of CUG. The campus is very beautiful. When I was an undergraduate student, my major was Geological Resources and Geological Engineering. At that time, I knew that the major of CUG was ranked number one in China.
Although I have never wasted time in my studies, I still have some regrets. I think that I should have paid more attention to the study of professional knowledge and spent more time to broaden my horizon and find my passion in the profession. In addition, it is also important for everyone to find a lifelong hobby.
From being an undergraduate student to a master student and a doctoral student, it is also a process of "self-understanding". I gradually found that I really like scientific research. I will be very lucky to work in a university.
TAO Ze was graduated from Cardiff University in the UK in 2018, majoring in Tectonics. His main research field is structural analysis of petroliferous basins.
I was born and raised up in Wuhan. I did my undergraduate study at CUG. I am very grateful to CUG for cultivating me. This time I went back to China to participate in CUG Forum for International Young Scholars, which let me feel kindness and affinity of my alma mater. After years of development, the scientific research platform of CUG has made great progress and can provide better support for young scholars. The school motto of "Live a simple life, stay realistic and pragmatic" has been ingrained into my research work and life.
I think that university students should master the main disciplines, and strengthen the study of basic subjects and theoretical courses, so they can lay a solid foundation for future development; they should broaden their horizons and be more involved in the fields and disciplines that interest them. For graduate students, they should further improve their English skills, read more articles, and try to write articles; they should do more experiments and attend more academic lectures. There are more than 300 lectures delivered by domestic and foreign scholars at CUG every year. Every student should grasp this opportunity.
As for scientific research, I think that we should persist in what we are doing with a clear mind; we must be creative and think critically.
JIANG Lijun now is visiting Imperial College London, majoring in chemistry. Her main research field is bioprobe.
By participating in the "CUG Forum for International Young Scholars", I came to CUG for the first time. However, CUG left me a very good impression. I had contact with personnel of the talent office of the university in the last few days. I appreciate for their enthusiastic and thoughtful arrangements for the meeting, especially, many details. At the same time, I also deeply felt the desire of the university for talents, so I am very confident about the future development of CUG!
For students in the university, I think it is very important to lay a good foundation for professional courses. English is important too. They should listen more, watch more and think more. To do scientific research, one must have his own idea. Think twice before action and work diligently.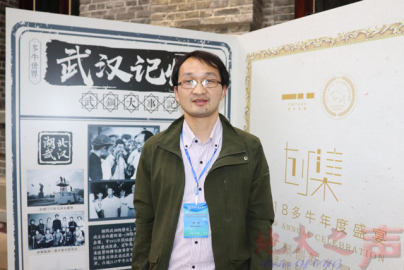 HONG Wei now is a postdoctoral researcher at University of Tasmania, Australia, majoring in economic geology. His main research field is the genesis of mineral deposits and prospecting.
In 2009, I graduated from the resource exploration engineering base class of CUG and got a bachelor's degree. Then I went to Beijing and Australia to study for master's degree and doctoral degree, respectively. In the past 10 years, Wuhan has been improved a lot in its infrastructure, cultural soft power and talent introduction. It has become a veritable first city in Central China. My alma mater has become a first-class university in China in the field of earth science, and the environment of the campus has improved a lot.
I think that university students should cultivate their academic interests and develop their social practical ability, to prepare to fit in with the society in the future. Graduate students should pay attention to the frontiers of the research field, focus on innovation, and strengthen exchanges with experts and counterparts.
For scientific research, I think it is important to: be down to earth, stand the loneliness; be driven by interest, look for fun from boring scientific research work; have clear self-positioning, grasp the direction of research topics; actively communicate with the tutor and gradually complete the scientific research task; keep up with the frontier development and strive to make original research.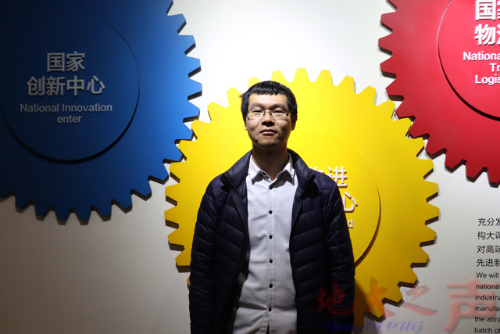 WU Guojiao now is a postdoctoral researcher at University of Hamburg, Germany, majoring in organic chemistry. His main research field is green chemistry and catalytic reaction research.
When I came to CUG, I felt that the environment of the university was beautiful and teachers were very kind; the personnel of the talent office were very responsible and well organized activities of the forum; with a long history, Wuhan has developed rapidly. However, I feel that the traffic conditions are not very good. Sometimes I see traffic jams. The air quality also needs to be further improved.
As for how students in the university should do a good job in learning and research, I think the knowledge in the textbook is important, so is the knowledge outside the textbook. It is necessary for them to broaden horizons and develop themselves from different angles. More importantly, they must focus on self-development. For graduate students, they must strictly demand themselves and adhere to the path of scientific research that they chose. Graduate students should learn more about the knowledge outside the textbooks, keep up with the frontiers of the research field, communicate more, and think more. I think that perseverance is the key for scientific research. Pain and joy is also a part of life.
ZHANG Biaobiao now is a postdoctoral researcher at the Royal Institute of Technology, Sweden, majoring in chemistry. His research field is artificial photosynthesis and hydrogen production by solar water splitting.
When I came to CUG, I felt that the greenery of the University was good and the environment was good; the leaders of the university are very friendly, without bureaucracy; administrative personnel work conscientiously and efficiently, with strong working abilities and service awareness.
For university students, I think that independent learning ability is very important; they should also pay attention to the development of communication and coordination skills and practical ability, focus on current affairs, pay attention to information at home and abroad, and establish a world view; they should choose two or three courses that they think are important, and learn these courses thoroughly, to lay a solid foundation for the future self-development; they should become a noble person with aspiration.
To do a good job in scientific research, I think that graduate students must learned well the professional courses related to the subject; they should cultivate scientific literacy and scientific thinking, cultivate interest, and pay attention to details. I believe that scientific research is about pursuing science and maintaining faith in science.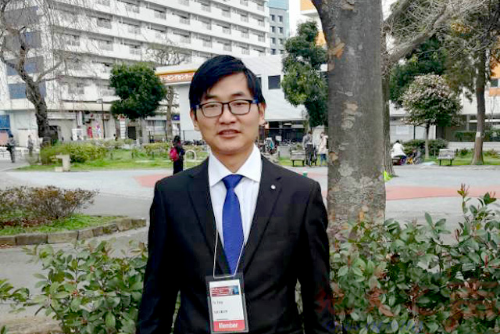 YANG Fu is studying at Kyushu Institute of Technology, Japan, majoring in materials chemistry. His research field is new energy materials and devices.
Through participating in the CUG Forum for International Young Scholars, I feel that CUG is a place full of love. Administrative personnel and teachers of CUG work very hard. Wuhan has developed rapidly. I hope that the environment of Wuhan will be better in the future.
I think that in addition to working hard on knowledge in textbooks, university students should actively cultivate their interests and be willing to learn. While striving for scientific research, graduate students should read more research literatures and participate in some international conferences to broaden their horizons.
I believe that to do a good job in scientific research, they must work hard, persist and fight. They must dare to try, work more, think more and talk less. They must be not afraid of hardship and march forward despite difficulties. In the end, they will succeed.